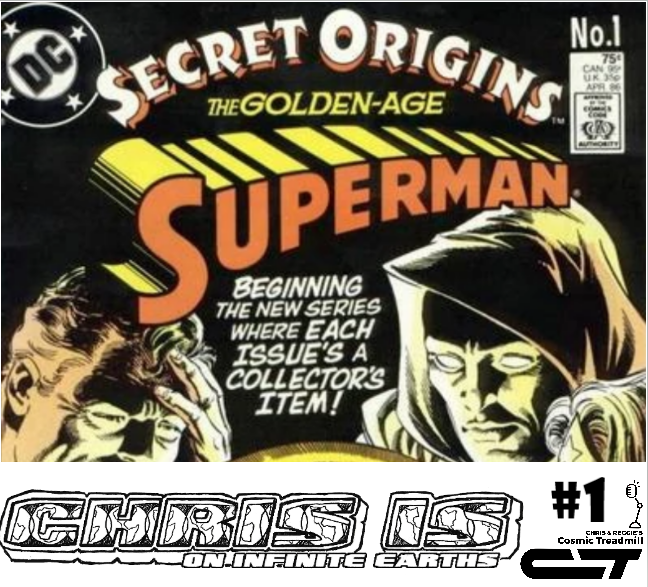 Welcome everyone to the first episode of Chris is on Infinite Earths!
Today we are looking at Secret Origins #1 from 1986... which was originally discussed over at chrisisoninfiniteearths.com on January 31, 2017 (the site's first "bloggiversary").
This is a bit of a self-indulgent episode wherein not only will we look at the "Secret Origin" of the Golden-Age Superman... but of the Chris is on Infinite Earths blog!
The original post can be found right here.
We hope you enjoy this "side series".  If you do, please don't hesitate to reach out and let us know!
--
You can get a hold of us at weirdcomicshistory@gmail.com
--
For our weekly writings check out www.weirdsciencedccomics.com
For Chris' daily writings check out www.chrisisoninfiniteearths.com
--
Check out www.weirdcomicshistory.blogspot.com for show notes!
--
Visit us on Facebook at: www.facebook.com/CosmicTMillHistory and on Twitter @CosmicTMill @reggiereggie & @acecomics
--
Subscribe to the show on iTunes, Spotify, Stitcher, Google Play, iHeartRadio... wherever's most convenient! New episodes of Chris and Reggie's Cosmic Treadmill drop every Sunday morning. Weird Comics History releases sporadically on Tuesdays. Chris is on Infinite Earths is tentatively scheduled for Wednesdays.  Re-uploads of Young Animal "Gatherum" episodes hit every Thursday morning (at least until we run out of 'em!).
--
TAGS: Secret Origins, DC Comics, Roy Thomas, Wayne Boring, Jerry Ordway, 1986, 1980's, post-Crisis, Golden-Age