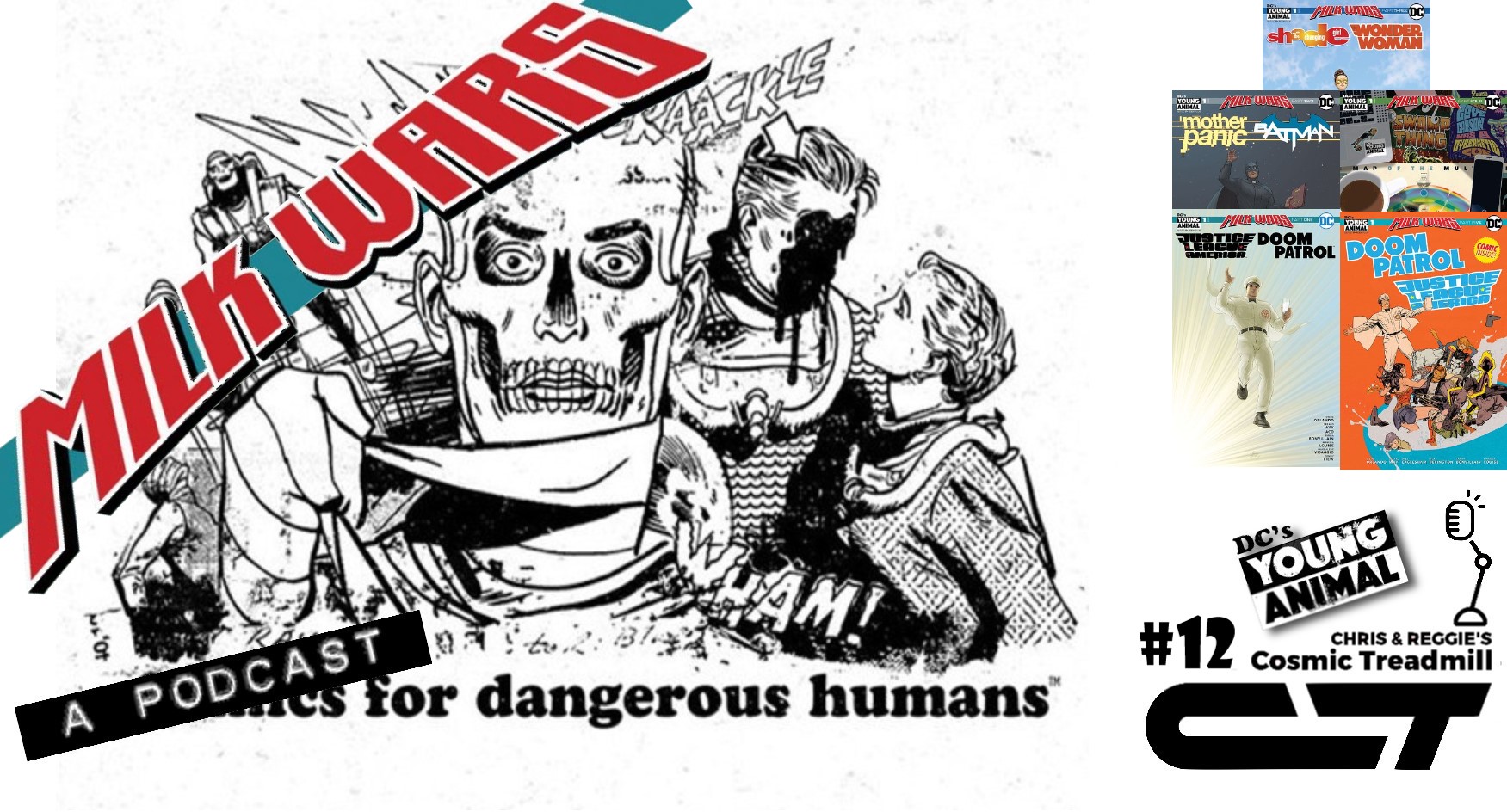 Welcome to Milk Wars... hope you (and we) survive the experience!
A little forewarning... your usually even-keeled hosts, Reggie (@reggiereggie) and Chris (@acecomics) did not enjoy this event... and they're going to spend the next two hours tellin' ya alllllllll about it.  Join them as the Young Animal imprint undergoes an unnecessary, unearned, and nonsensical... reboot?!  Well, in fairness, they were in existence for an entire year!  Oh yeah... Colorful language warning.
These discussions originally aired in segment form on the following episodes of the Weird Science DC Comics Podcast:
Episode 161 (02.04.2018) - Justice League of America/Doom Patrol #1
Episode 162 (02.11.2018) - Mother Panic/Batman  #1
Episode 163 (02.18.2018) - Shade the Changing Girl/Wonder Woman #1
Episode 164 (02.25.2018) - Cave Carson Has a Cybernetic Eye/Swamp Thing #1
Episode 165 (03.04.2018) - Doom Patrol/Justice League of America #1
--
You can get a hold of us at weirdcomicshistory@gmail.com
--
If you dig what we're doing, consider chipping in to our Patreon patreon.com/chrisandreggie
For our weekly writings check out www.weirdsciencedccomics.com
For Chris' daily writings check out www.chrisisoninfiniteearths.com
--
Check out www.weirdcomicshistory.blogspot.com for show notes!
--
Visit us on Facebook at: www.facebook.com/CosmicTMillHistory and on Twitter @CosmicTMill
--
Subscribe to the show on iTunes, Spotify, Stitcher, Google Play, iHeartRadio... wherever's most convenient! New episodes of Chris and Reggie's Cosmic Treadmill drop every Sunday morning. Weird Comics History releases sporadically on Tuesdays. Re-uploads of Young Animal "Gatherum" episodes hit every Thursday morning (at least until we run out of 'em!)
--
TAGS: Young Animal, DC Comics, Mother Panic, Doom Patrol, Milk Wars, Steve Orlando, Gerard Way, Batman, Wonder Woman, Swamp Thing, Milkmanman, Superman, Justice League of America, Lobo, Vixen, Atom, Shade the Changing Girl, Cave Carson, Wild Dog, Mother Panic, reboot, relaunch, rewhatever