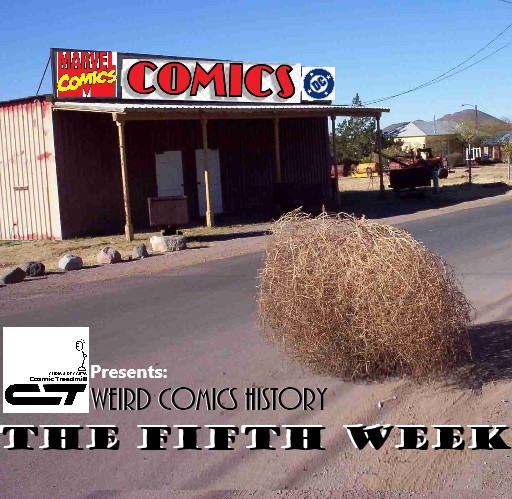 Where is my Pet-er Park-er
Where is my Justice Leeeeague
Where is my Un-canny X-Men
Where have all the cah-mics gooone?
Well, gentle listener... if you have a calendar handy, you'll know that we're currently in the final week of a month that has FIVE Wednesdays!  That puts us in the sticky-wicket known as a "fifth week".  Not much on the racks this week unless you've got your eye on an overpriced (and likely underwhelming) Annual... or perhaps you're one of the "lucky ones", and your favorite titles are running late and are scheduled this week!  Either way, if you're a fan of the "big two", it's slim pickins on the "New Release Wall".
During this re-purposed episode we'll tell you all about why such a phenomenon exists, and chat about all the ways in which the big two tried to do damage control over through the years... and have a heckuva good time doing it!  Join us, won't you?
--
Originally aired in lieu of a Young Animal Spotlight during Weird Science DC Comics Podcast Episode #126 (June 4, 2017).
--
You can get a hold of us at weirdcomicshistory@gmail.com
--
For our weekly writings check out www.weirdsciencedccomics.com
For Chris' daily writings check out www.chrisisoninfiniteearths.com
For our half-hearted blog/image depository check out www.weirdcomicshistory.blogspot.com
--
Visit us on Facebook at: www.facebook.com/CosmicTMillHistory and on Twitter @CosmicTMill
--
Subscribe to the show on iTunes, Stitcher, Google Play... wherever's most convenient! New episodes of Chris and Reggie's Cosmic Treadmill drop every Sunday morning. Weird Comics History releases sporadically on Tuesdays. Re-uploads of "classic" episodes hit every Thursday morning (at least until we run out of 'em!)
--
TAGS: Weird Comics History, Fifth Week