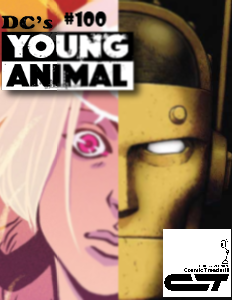 Hello everyone!
With our sincerest apologies, we report that... due to technical difficulties beyond our control, we were unable to record Part Three (of Five) of our Age of Apocalypse Spectacular.
We appreciate your patience, and we didn't wanna leave you hanging this (or any) Sunday morning... and so, for your listening pleasure... something completely different!
Over at Weird Science DC Comics, your humble hosts Chris (@acecomics) and Reggie (@reggiereggie) host a segment wherein they discuss DC's Young Animal "pop-up" imprint.  During episode #100 of the Weird Science DC Comics Podcast (December 4, 2016), having no actual Young Animal books to discuss (sadly, a fairly common occurrence) they thought it would be fun to, not go BACK TO THE PAST... but, instead... INTO THE FUTURE (hey, the Cosmic Treadmill goes both ways!) and discuss the one-hundredth issues of both Doom Patrol, and Shade the Changing Girl.  Prescient... is not a word often used to describe Chris or Reggie.
We hope you enjoy this bit, and humbly and sincerely apologize for our inability to put out an all-new episode.  Though, if you haven't heard this yet... it's new to you!
http://weirdcomicshistory.blogspot.com
TAGS: Young Animal, DC Comics, 2010's, Special Presentation, Sorry!, Doom Patrol, Gerard Way, Nick Derington, Shade the Changing Girl, Cecil Castellucci, Marley Zarcone
TAGS: