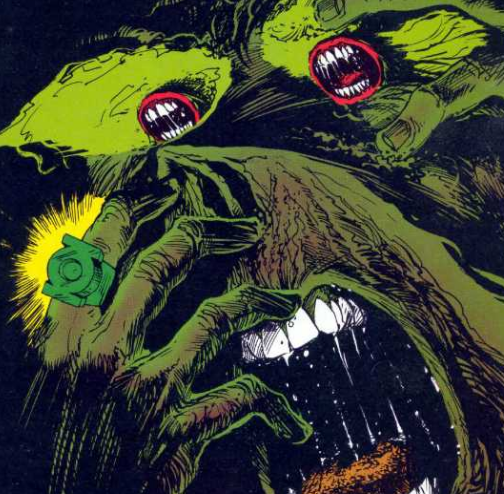 In Forest Dark or Glade Beferned,
No Blade of Grass shall go Unturned.
Let those who have the Daylight Spurned,
Tread not where this Green Lamp has Burned.
For this week's re-upload, Chris (@acecomics) and Reggie (@reggiereggie) travel to the Banyam Complex on planet J586 and sit in on a sermon delivered by the Priest of O. Somewhere along the way of this dazzling radio-opera, Reggie really messes up his throat... and a great time is had by all!
--
Poll-Results:
38% - Superman: Kryptonite Nevermore! (always a bridesmaid!)
48% - Swamp Thing #61 (1987)
14% - Sandman #6 "24-Hours"
From 42 Votes! Huge thanks to those who voted... and David (@Lavahog) from the @parlipod Podcast for spreading the word!
--
Originally aired in segment form during Weird Science DC Comics Podcast Episode #92 (October 9, 2016)
--
You can get a hold of us at weirdcomicshistory@gmail.com
--
For our weekly writings check out www.weirdsciencedccomics.com
For Chris' daily writings check out www.chrisisoninfiniteearths.com
For our half-hearted blog/image depository check out www.weirdcomicshistory.blogspot.com
--
Visit us on Facebook at: www.facebook.com/CosmicTMillHistory and on Twitter @CosmicTMill
--
Subscribe to the show on iTunes, Stitcher, Google Play... wherever's most convenient! New episodes of Chris and Reggie's Cosmic Treadmill drop every Sunday morning. Weird Comics History releases sporadically on Tuesdays. Re-uploads of "classic" episodes (like this one!) hit every Thursday morning (at least until we run out of 'em!)
--
TAGS: Swamp Thing, Alan Moore, Alfredo Alcala, Tatjana Wood, John Totleben, DC Comics, 1987, 1980's, comic books, comics history, pre-Vertigo