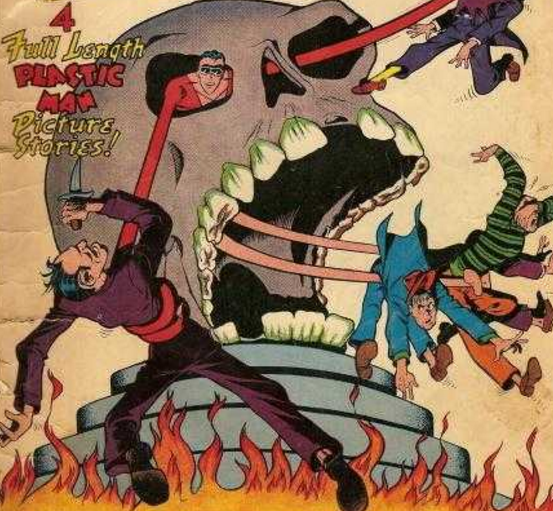 He's a real good guy in a bright red suit and he always wears goggles and a belt that's a beaut!  Plastic Maaaaaaa*hic*nnn
Chris (@acecomics) and Reggie (@reggiereggie) stretch themselves to their limit this time around discussing a Golden Age tale of Plas and the gang.  They also dig deep into the life and times of Jack Cole, his work for Playboy Magazine and friendship with the recently-departed Hugh Hefner as well as his unfortunate and mysterious end.
--
Twitter Poll Results:
35% - Kryptonite Nevermore!
38% - Plastic Man #1 (1943)
27% - Swamp Thing #60 (1987)
With 34 Votes!  Big thanks to everyone who voted/shared!
--
Big thanks to @DancingMike for the intro song!
You can get a hold of us at weirdcomicshistory@gmail.com
--
Originally aired as a segment during Weird Science DC Comics Podcast #95 (October 30, 2016)
--
For our weekly writings check out www.weirdsciencedccomics.com
For Chris' daily writings check out www.chrisisoninfiniteearths.com
For our half-hearted blog/image depository check out www.weirdcomicshistory.blogspot.com - Currently featuring pictoral evidence of EVERY (to our knowledge) pre-Crisis appearance of the enigmatic Monitor!
--
Visit us on Facebook at: www.facebook.com/CosmicTMillHistory and on Twitter @CosmicTMill
--
Subscribe to the show on iTunes, Stitcher, Google Play... wherever's most convenient! New episodes of Chris and Reggie's Cosmic Treadmill drop every Sunday morning. Weird Comics History releases sporadically on Tuesdays. Re-uploads of "classic" episodes (like this one!)hit every Thursday morning (at least until we run out of 'em!)
--
TAGS: Plastic Man, DC Comics, Quality Comics, 1940's, 1943, Golden Age Comics, Jack Cole, Playboy Magazine, Hugh Hefner, art spiegelman, The New Yorker