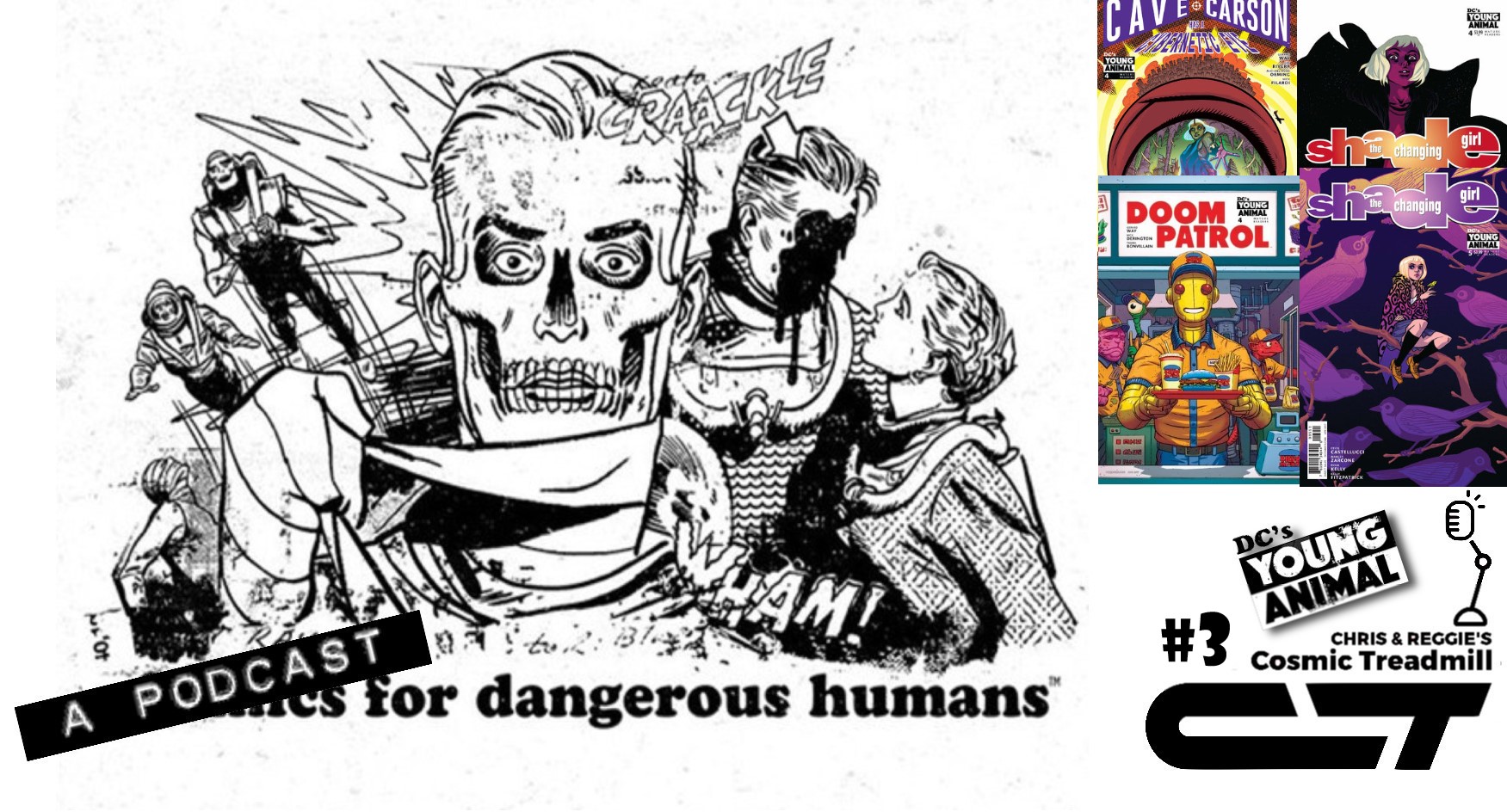 Helloooooo Dangerous Humans,
Today we bring you good news... and better news!
First the good news... this episode does include an issue of Doom Patrol.  The better news?  It does not include an issue of Mother Panic!  That there was a book your humble hosts, Reggie (@reggiereggie) and Chris (@acecomics) did not enjoy right out of the gate!
This is another collection of four review segments, originally aired on the Weird Science DC Comics Podcast, on the following episodes:
Episode 105 (01.08.2017) - Shade the Changing Girl #4
Episode 107 (01.22.2017) - Cave Carson Has a Cybernetic Eye #4
Episode 108 (01.29.2017) - Doom Patrol #4
Episode 109 (02.11.2017) - Shade the Changing Girl #5
--
You can get a hold of us at weirdcomicshistory@gmail.com
--
For our weekly writings check out www.weirdsciencedccomics.com
For Chris' daily writings check out www.chrisisoninfiniteearths.com
--
Check out www.weirdcomicshistory.blogspot.com for show notes!
--
Visit us on Facebook at: www.facebook.com/CosmicTMillHistory and on Twitter @CosmicTMill
--
We're also now on YouTube... just search "weirdcomicshistory" (all one word) and you ought to be able to find us!
--
Subscribe to the show on iTunes, Spotify, Stitcher, Google Play, iHeartRadio... wherever's most convenient! New episodes of Chris and Reggie's Cosmic Treadmill drop every Sunday morning. Weird Comics History releases sporadically on Tuesdays. Re-uploads of "classic" episodes hit every Thursday morning (at least until we run out of 'em!)
--
TAGS: Young Animal, DC Comics, 2010's, 2017, Shade the Changing Girl, Cave Carson Has a Cybernetic Eye, Doom Patrol, Cecil Castellucci, Marley Zarcone, Gerard Way, Juan Rivera, Michael Avon Oeming, Nick Derington