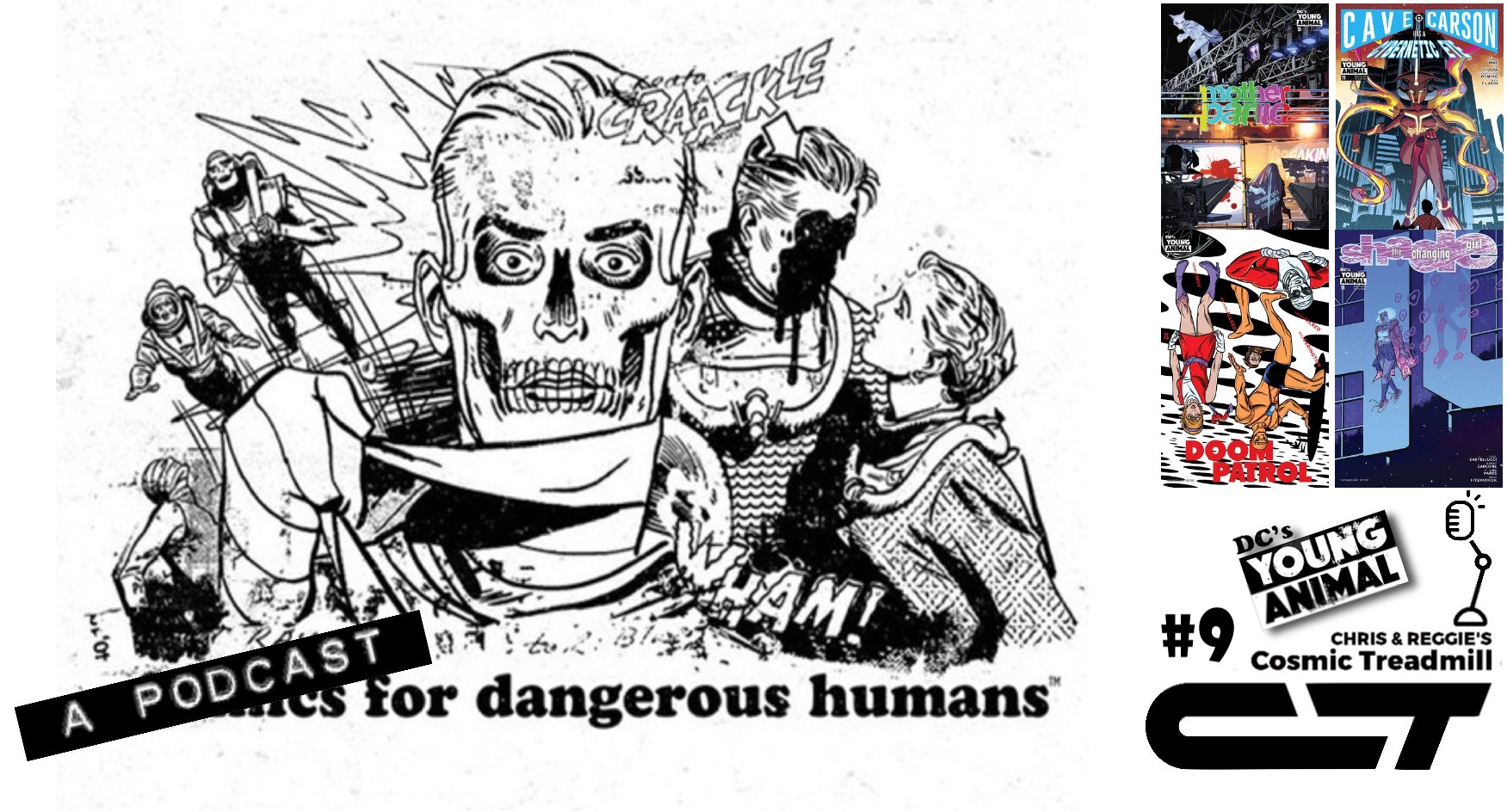 Our Young Animal revisit has officially reached "the staples"!  That's right, we are halfway through our planned 18-episode look at the pop-up imprint that could!
This week... It's really one'a them "Good News, Bad News" situations... ya see, after a few months... we finally get that next issue of Doom Patrol.  Thing of it is... it kinda smells like filler.  It looks great though... and gives us our Allred-fix, which is a good thing, since Bug! took the month off!
In addition to that issue of Doom Patrol, we will be discussing the penultimate issues of Shade and Cave... Mother Panic shows up too!
These discussions originally aired as segments during the following episodes of the Weird Science DC Comics Podcast:
Episode 134 (07.30.2017) - Doom Patrol (vol.6) #7 & Mother Panic #9
Episode 135 (08.06.2017) - Shade the Changing Girl #11
Episode 137 (08.20.2017) - Cave Carson Has a Cybernetic Eye #11
--
You can get a hold of us at weirdcomicshistory@gmail.com
--
For our weekly writings check out www.weirdsciencedccomics.com
For Chris' daily writings check out www.chrisisoninfiniteearths.com
--
Check out www.weirdcomicshistory.blogspot.com for show notes!
--
Visit us on Facebook at: www.facebook.com/CosmicTMillHistory and on Twitter @CosmicTMill
--
Subscribe to the show on iTunes, Spotify, Stitcher, Google Play, iHeartRadio... wherever's most convenient! New episodes of Chris and Reggie's Cosmic Treadmill drop every Sunday morning. Weird Comics History releases sporadically on Tuesdays. Re-uploads of Young Animal "Gatherum" episodes hit every Thursday morning (at least until we run out of 'em!)
--
TAGS: DC Comics, Young Animal, Doom Patrol, Shade the Changing Girl, Mother Panic, Cave Carson Has a Cybernetic Eye, Gerard Way, Mike Allred, Cecil Castellucci, Marley Zarcone, Jody Houser, Shawn Crystal, Michael Avon Oeming, Jon Rivera, 2017