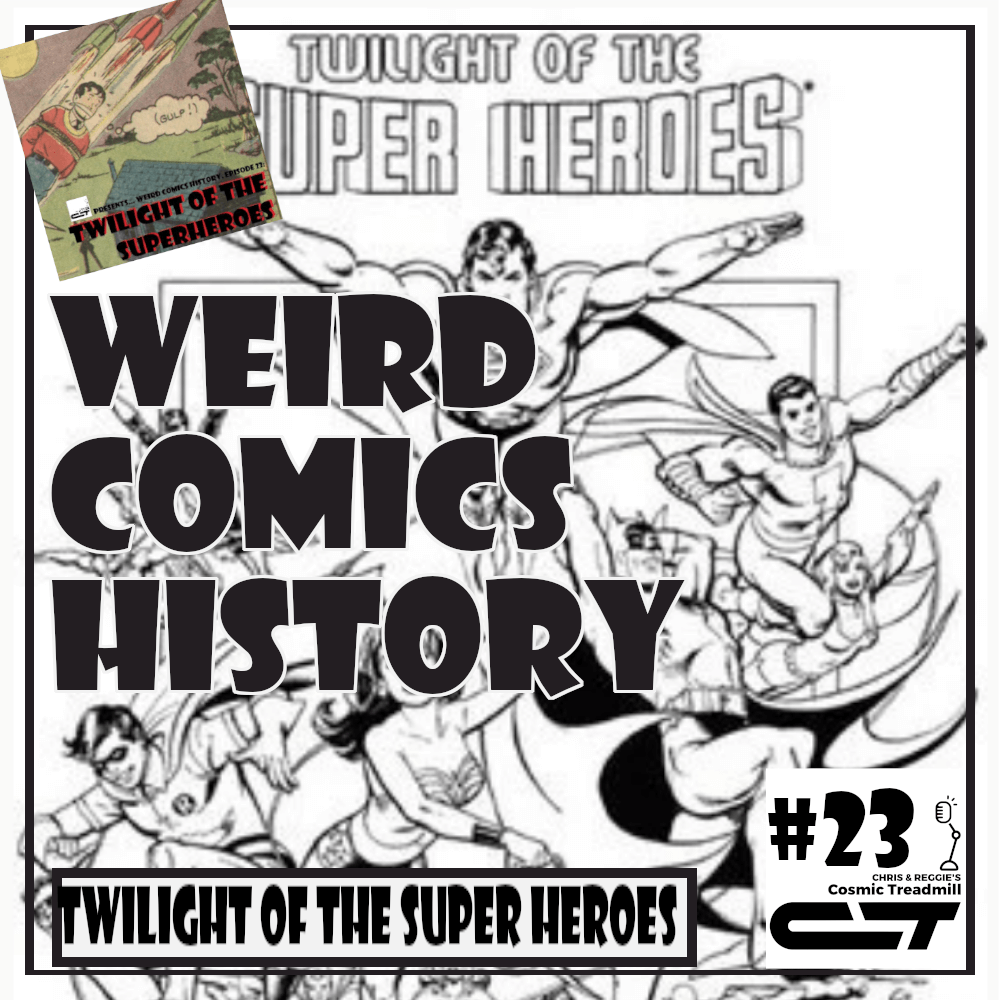 Weird Comics Historians, Reggie (@reggiereggie) and Chris (@acecomics) sift through the reject pile and discuss Alan Moore's 1987 DC Comics pitch, Twilight of the Superheroes.  Join them as they break down Mr. Moore's take on a possible future for the DC Universe.  If you can imagine it, they're going to be discussing the year... 2000!
They will set the stage for the world of Twilight (it's like you're there!), discuss the entire story and also share Alan Moore's demandments for the perfect comics crossover event!  If you listen closely, you might even learn how to defeat Captain Marvel!
It's a great time as always, so give it a listen... and they swear, this is not an episode about John Constantine!
Wanna read the actual Twilight of the Superheroes pitch?
https://archive.org/stream/TwilightOfTheSuperheroes/TwilightOfTheSuperheroes_djvu.txt
--
You can get a hold of us at weirdcomicshistory@gmail.com
--
For our weekly writings check out www.weirdsciencedccomics.com
For Chris' daily writings check out www.chrisisoninfiniteearths.com
For our half-hearted blog/image depository check out www.weirdcomicshistory.blogspot.com - Currently featuring pictoral evidence of EVERY (to our knowledge) pre-Crisis appearance of the enigmatic Monitor!
--
Visit us on Facebook at: www.facebook.com/CosmicTMillHistory and on Twitter @CosmicTMill
--
Subscribe to the show on iTunes, Stitcher, Google Play... wherever's most convenient! New episodes of Chris and Reggie's Cosmic Treadmill drop every Sunday morning. Weird Comics History releases sporadically on Tuesdays. Re-uploads of "classic" episodes hit every Thursday morning (at least until we run out of 'em!)
--
TAGS: Alan Moore, Twilight of the Superheroes, John Constantine, 1987, DC Comics, pitch, crossover event, Malibu Comics, Paul Levitz, Captain Marvel, Martian Manhunter, Superman, House of Steel, House of Thunder,