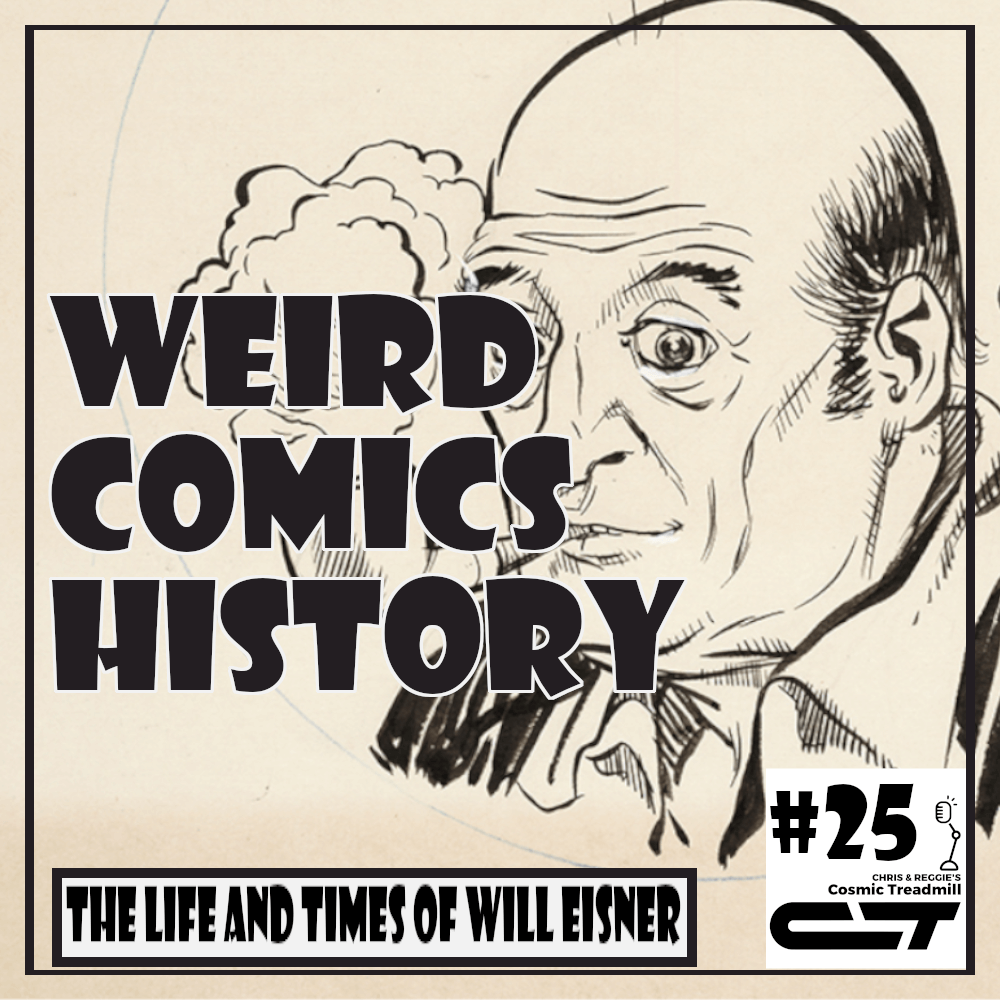 Artist, Educator, Businessman... Icon!
For this installment of Weird Comics History, Reggie (@reggiereggie) and Chris (@acecomics) discuss the life and times of one of comics' most enduring personalities, Will Eisner!  We explore everything from his childhood, to the foundation of the Eisner-Iger Studios, and even throughout his military service... learning that no matter what the scenario, Eisner and art went hand in hand.
SOURCES:
Will Eisner: A Spirited Life by Bob Andelman (2005)
Will Eisner's Shop Talk (2001)
Eisner/Miller interview conducted by Charles Brownstein (2005)
Many interviews culled from Alter Ego magazine and around the web
BIBLIOGRAPHY:
Odd Facts. Tempo Star Books. 1975
A Contract with God. Baronet Books. 1978
Life on Another Planet. 1983
Comics and Sequential Art. 1985
New York: The Big City1986. ISBN
The Dreamer. 1986
The Building. 1987
A Life Force. 1988
Art of Will Eisner (2nd ed.). Kitchen Sink. 1989
To the Heart of the Storm. 1991
The Will Eisner Reader. 1991
Invisible People. 1993
Dropsie Avenue. 1995
Will Eisner Sketchbook, Kitchen Sink. 1995
Graphic Storytelling and Visual Narrative. 1996
The Princess and the Frog. 1996.
A Family Matter. 1998.
Last Day in Vietnam. 2000.
The Last Knight. 2000.
Minor Miracles. 2000.
Will Eisner's Shop Talk. Dark Horse Comics. 2001.
Fagin the Jew. 2003.
The Name of the Game. 2003.
Will Eisner's John Law: Dead Man Walking, IDW. 2004
The Plot: The Secret Story of The Protocols of the Elders of Zion. WW Norton. 2005.
--
You can get a hold of us at weirdcomicshistory@gmail.com
--
For our weekly writings check out www.weirdsciencedccomics.com
For Chris' daily writings check out www.chrisisoninfiniteearths.com
For our half-hearted blog/image depository check out www.weirdcomicshistory.blogspot.com
--
Visit us on Facebook at: www.facebook.com/CosmicTMillHistory and on Twitter @CosmicTMill
--
Subscribe to the show on iTunes, Stitcher, Google Play, iHeartRadio... wherever's most convenient! New episodes of Chris and Reggie's Cosmic Treadmill drop every Sunday morning. Weird Comics History releases sporadically on Tuesdays (this one in fact!). Re-uploads of "classic" episodes hit every Thursday morning (we're currently out of 'em... but there might be some "lost episodes" yet to come!)
--
TAGS: Will Eisner, Weird Comics History, History, Comic Books, The Spirit, Eisner-Iger, World War II, Golden Age Comics, Denis Kitchen, Kitchen Sink